Watch the full Youtube video:
Hey everybody, the Real Deal here. I've got the latest Marvel Collector Corps box from Funko. This is obviously centered around Deadpool who just had a really awesome movie that just came out. I'm trying to get a better look at that with the camera there.
If you're not familiar with the Marvel Collector Corps, this is something that Funko does, obviously with Marvel. It's a bi-monthly subscription box, so they send you a box every 2 months. Each one is themed around something different. They've done some really cool ones, like Secret Wars and Guardians of the Galaxy. Of course, they tend to theme them around whatever movies are out in the theaters around the time that these come out.
Obviously Deadpool is really big right now, breaking all sorts of records. It's a pretty cool movie. I definitely recommend it. It definitely earns it's R rating with lots of sex and violence, and everything. It's not one to take the little kiddies to, like of the some of the superhero movies might be; but it's a lot of fun. It's just a really fun, cool movie that's true to the source of material, and I recommend it.
These Funko boxes, which I cannot open, come with all sorts of cool exclusive stuff that you can only get in these Collector Corps boxes. The first thing that they always give you there is a cool patch. Let's see, we got Deadpool there.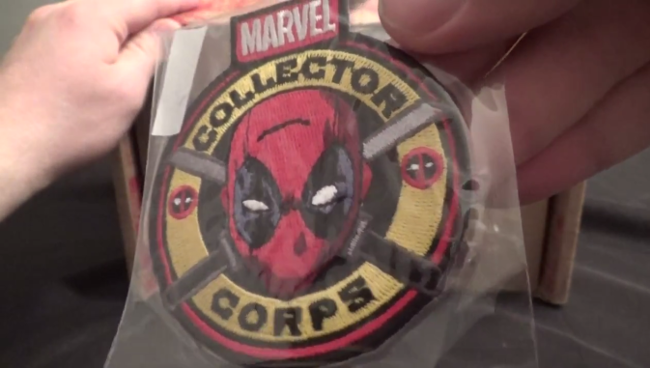 Then, in addition to the patch, you get a cool little pin. Yeah, we got a cool Deadpool Collector Corps pin as well. There you go.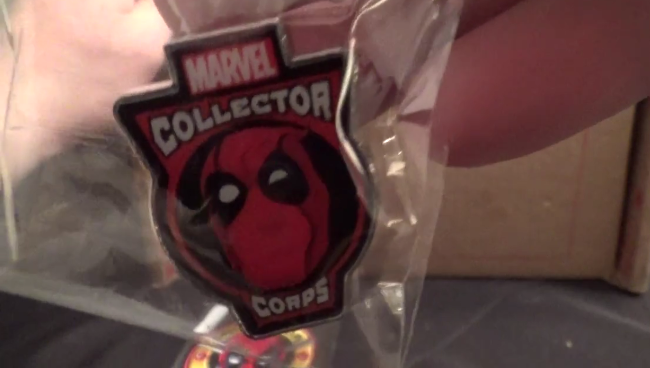 Now, the really cool stuff is inside here. Usually you get an exclusive Funko POP!, which is what I'm hoping to see here. Obviously it's going to be a Deadpool. Hey, yeah, I see a Funko POP! and some other cool stuff there. All right, so we got a Deadpool in there. I see a Deadpool Dorbz! All right, cool. We've got a comic book in there. There's some really neat looking stuff in here.
Let's start with this. We've got a cool Deadpool comic. This is Deadpool 1 Variant Edition, so this is the Collector Corps cover there. Deadpool looks like he's on top of a bunch of chimichangas … really cool. That's the Collector Corps exclusive Deadpool cover, so there you go. Nothing on the back. All right.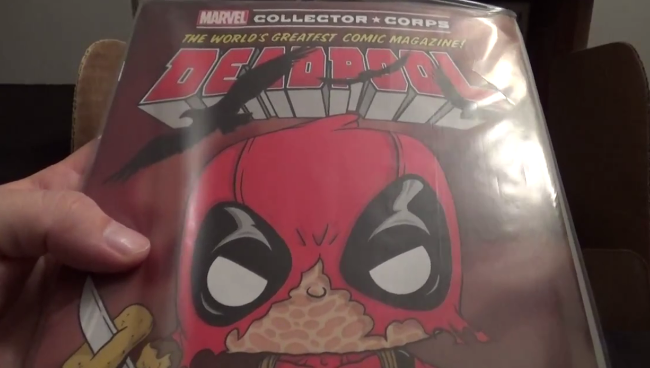 Then, we've got a t-shirt, it looks like, with a Funko Deadpool on it. This is Deadpool ornate black t-shirt. All right, let's see, rip this open and take a look at it. See how cool it is. All right. There you go. I can't get far enough back there but you see it's Deadpool in his black and red costume there, says Deadpool. That's cool. Striking a cool pose there. That's pretty neat. It's a nice looking shirt. Of course it's the Funko version of Deadpool. All right, cool. Nothing on the back. Yeah that's, that's boring. Nothing on the back.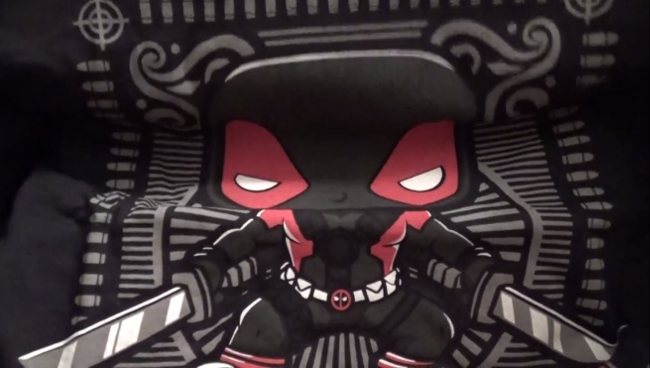 All right, so cool. Nice comic, nice t-shirt. All right. Let's pull this Funko POP! out here and see what the deal is with this. This is Deadpool, that's neat. He … That fell over, this doesn't want to stay up. Usually that will stay up for me. All right, whatever. This is Deadpool in an action pose, it looks like. That's pretty cool. I want to keep him in here, but this is the exclusive Marvel Collector Corps edition, Deadpool bobble head. Let me look on the back here. All right, collect the entire line of Funko POP! Deadpool bobble heads. I don't think all of these are Funko exclusives, or Marvel Collector Corps exclusives; but it looks like there's a bunch of different Deadpools you can get. This is action pose … Deadpool leaping, there you go. That's very cool. Very neat, awesome. Cool Deadpool Funko POP! figure.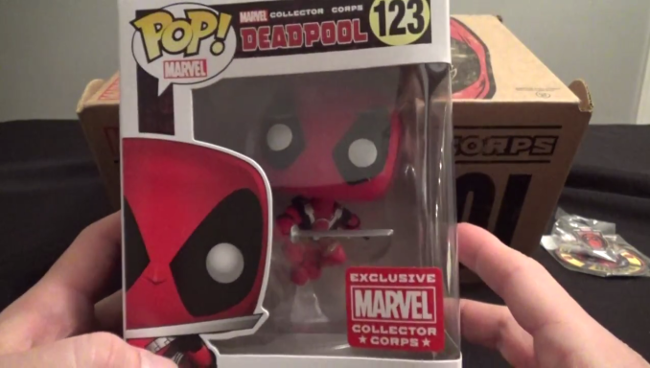 All right, let's see what else we got in here. Look at this! I didn't even notice this. We've got a Deadpool … Look at this, in his black and red costume. A little plush Deadpool, what do they call these? A Mopeez. That's right, I've heard of these. Marvel Collector Corps Mopeez, so this is something new Funko's doing, too, where they've got these little stuffed kind of beanbag figures. That's kinda cool, so there he is. Got our little Deadpool Mopeez figure. Awesome.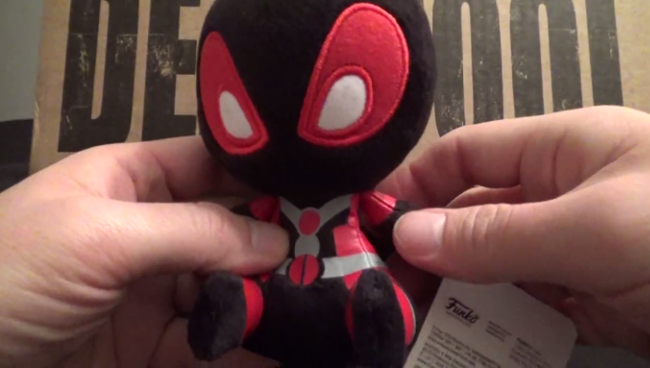 Then, let's see. We've got a Deadpool Dorbz! figure. This is the Marvel Collector Corps exclusive, and he's in a cowboy hat there. He's got a little pony, and one of those wooden pony things to ride on. Again, it looks like there's a bunch of different Deadpool Dorbz! you could get. This is Deadpool Cowboy. Very cool.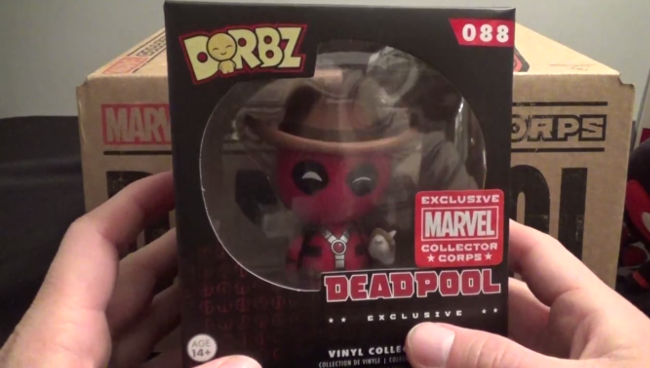 I really like this Deadpool case. There's some cool stuff in here. I especially like the Funko POP! and the Dorbz!, and the Mopeez. Of course, it's cool that we got a really cool t-shirt, and the comic is awesome, too. Obviously if you're a fan of Deadpool, this is the Corps case to get. I guess if you don't like Deadpool, you're not really going to enjoy this box so much.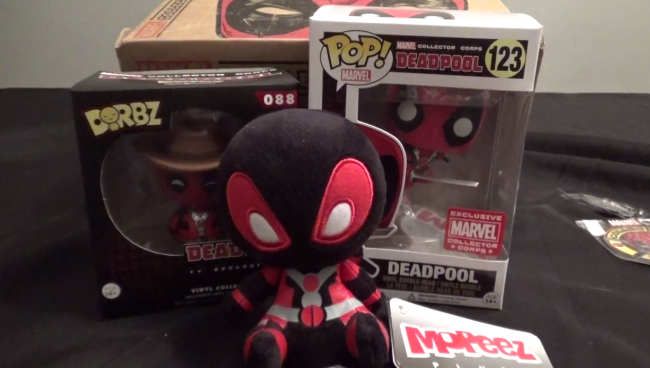 I think it's really neat stuff in there. Definitely feel like I got the value for the money. These are like $25 each if you subscribe, so it's not too bad for all the stuff that you get. If you really don't like it, I think you could probably sell this stuff on eBay for about the same cost as the crate, so you're probably not losing too much.
Anyway, I really like this Deadpool crate. Hope you enjoyed the video. You can like, and subscribe, and share, that would be cool. I'm on Patreon now. Patreon.com/therealdeal. You can go on there and donate money to support my channel. I give you some cool rewards. You should absolutely check that out. Check out the other links in the description, my eBay page, Facebook, Twitter. I'm all over the internet, so check me out. Thank you so much for watching, and keep on collecting.