Watch the full Youtube video:
Hey, everybody, the real deal here. I've got the latest Marvel Collector Corps box. I'm pretty excited about this one. It's for Guardians of the Galaxy which was an awesome movie. I think it was my favorite, well, it was my favorite of the phase 2 movies that Marvel did, so I'm excited to see what's in here.
As you can see, this box is huge. This is bigger than the other Collector Corps boxes that I've gotten. Let's see what's in here. I'll show you the top there. You got Star Lord on there. These Collector Corps boxes have been great. They come out once every 2 months, so every 2 months, 1 of these shows up in your mail, on your doorstep there. It's 100% exclusive. They've got t-shirts. There's usually a pin and a patch. There's also a cat that want to get on top of there. Sophia, get off of there, I got to unbox this thing. Of course, t-shirts, all that stuff, and there's also some exclusive Funko Pops in here. Those are usually the coolest. Let's take a look, and see what we're going to get here.
The first thing we got, I like to turn it on its side here, is we're going to get a patch with Rocket Raccoon there, Collector Corps patch. It's pretty cool. Cool Rocket Raccoon expression there. I like that, so there you go.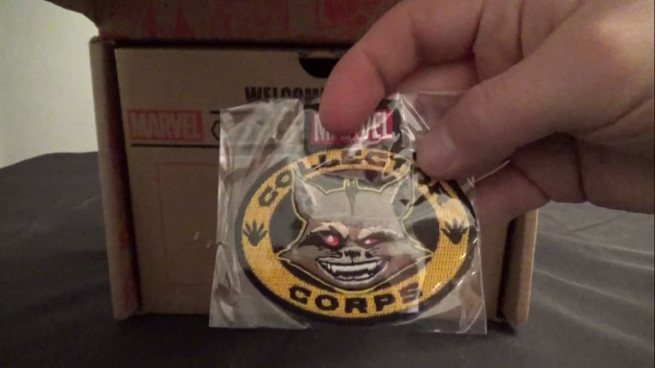 Then, we've got a pin which looks to be maybe Groot. Yes. We've got a Collector Corps Groot pin, so there you go. You've got Rocket and Groot right there at the outset.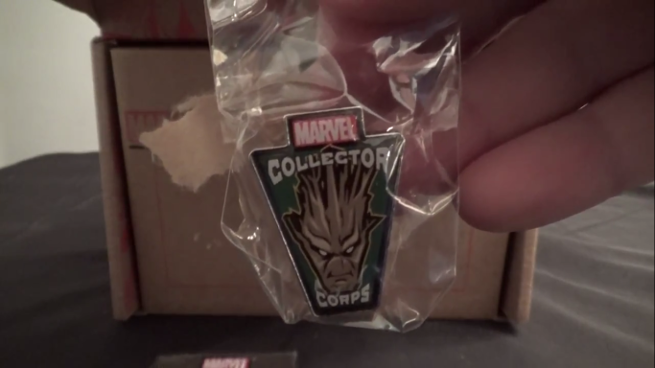 Let's see what's actually in the box. Cool patch, cool pin, but, obviously, the even cooler stuff is inside. Woah, what is in here? There's a little different that what we usually get here. There doesn't look like Funko Pops. There's some mugs. Sure, okay, well, let's see what we got. This is a Marvel Guardians of the Galaxy, they're mini Pops sort of. They're vinyl bobble heads, and they're Christmas themed. That's very, very cute. You've got Rocket and Groot in there. Let's see on the back. Yes, just Rocket and Groot. Pop Bobblers, vinyl bobble heads.
Let's take a look and see what these look like. I like to be very careful so I don't ruin the box. They're ornaments. That is really cool. Wow, these are going to go right on the Christmas tree. Look at this. You've got Groot bobble head there, little sprouts growing out of his head there, and his little pot. This is, I guess, the dancing Groot version. That's pretty cool. There he is.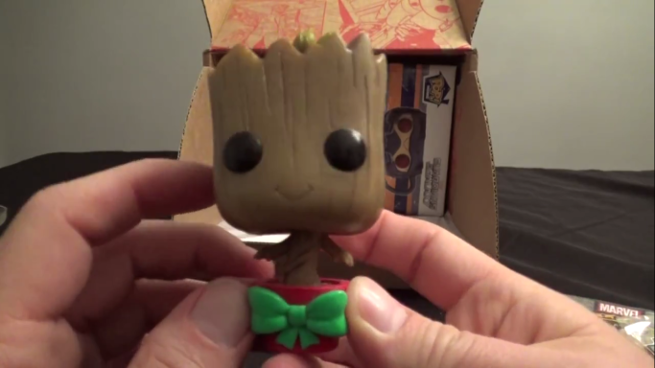 Well, he doesn't really have to stand up, he's going to hang up. He's an ornament, and then we've got Rocket here. Let's get him out. I really like these. This is appropriate for the season, so you've got Rocket, he's got a big smile on his face because it looks like he just got a giant gun as a gift there. Very cool.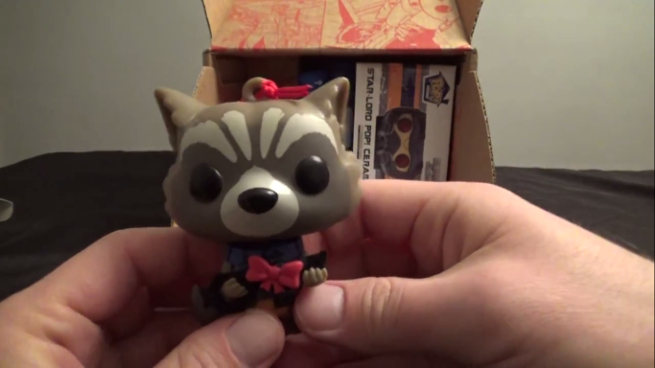 Not actually Funko Pops, but, I have to say I like these. This is pretty cool, and 2 new ornaments for my tree. These are definitely, definitely going on the tree. There we go. There's Rocket and Groot there.
Now, what's this? It looks like there's sweater or something in here or a scarf. Yes, it's a scarf. Look at that. We've had an unseasonably, look at that. It's Groot on the side there if you can see. I don't have a big enough angle to show you the whole thing, but that's cool. It's Groot in his pot there. On the other side, it looks like the guardians. I was going to say we've had an unseasonably warm Fall, so I'm not complaining. Hopefully I won't need it, but when it does get cold, I'll definitely be rocking this Guardians of the Galaxy scarf. There you can silhouettes of all five of the Guardians of the Galaxy there. That's pretty neat.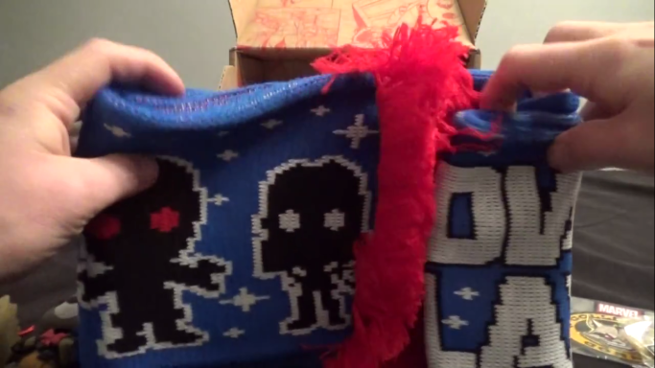 I like they changed it up with this box set. It's usually a t-shirt and some Pops, but they got some different stuff in here. It looks like I passed right over. We've got a comic book there. Guardians of Infinity, so this is Guardians of Infinity number 1, Rocket and Groot Christmas variant cover there. That's pretty cool. I'll have to check that out. I'll give that a read. It's pretty cool, and then, what is this here?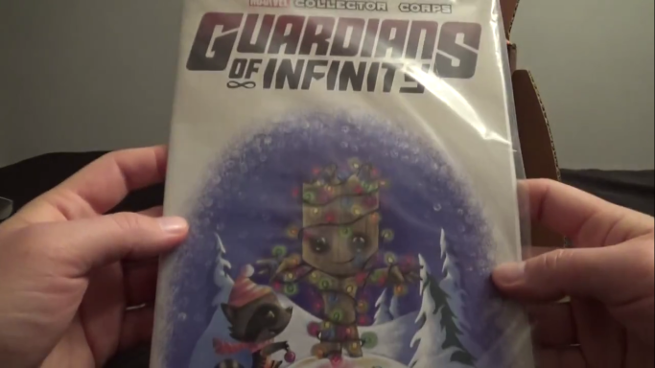 This is a Star Lord Pop ceramic mug, so Collector Corps exclusive. I wonder if there's, collect the entire line of Marvel's Guardians of the Galaxy Funko Pop housewares. That's interesting. Boy, Funko is really branching out, not just Pop vinyls anymore. There's doing shirts and ceramics and ornaments and key chains and all sorts of stuff. Can I get this out of here without destroying it? Let's see. Yes, there it is. Cool. Wow, look at that. That's actually really nice. I love it, Star Lord mug. There you go, very cool ceramic mug there. I'll probably just use this as decoration. I don't know if I'll actually drink out of it, but it's very cool. There you go.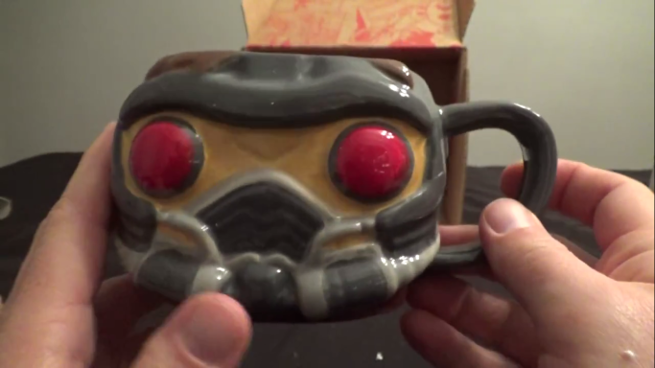 Overall, I liked this crate. I like that they changed it up a little bit. I love the ornaments. It would have been nice to get a Funko Pop. That's what I'm used to getting out of these. I'm sure there will be more Funko Pop figures in the crates to come, but they've already released a huge slew of Guardians of the Galaxy Funkos. It makes sense that we didn't get one here, but I love these ornaments. The scarf is cool. The mug is cool. Comic's cool, but these ornaments really take the cake. I love these. There you go. That's the latest crate on Guardians. I also have lots of other Marvel unboxings. The Funko Marvel bobble heads that came out, I have those, the mystery minis I mean.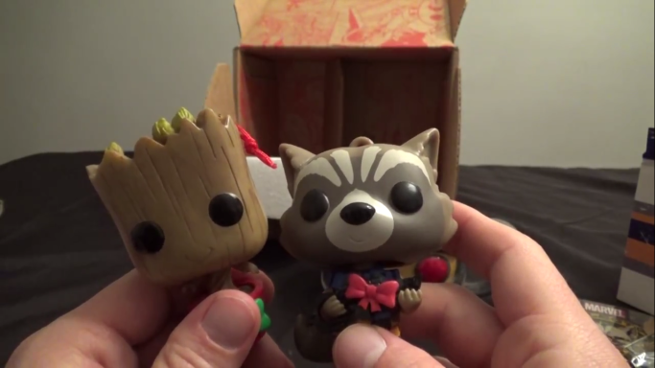 I've also got lots of other cool stuff, the Collector Corps videos, so I put new videos up every Sunday at 7am Eastern time. Make sure you tune in for that, and go back and like all my other stuff. Like, subscribe, share. Go to my ebate page. The link is in the description of this video. Check out my webpage, realdealunbox.com, and thank you so much for watching. Keep on collecting.