Watch the full Youtube video:
Hey everybody, The Real Deal here, I've got 3 really cool Amiibo to open up for here as you can see. I've been bitten by the Amiibo bug a little bit. Might be a big problem for my wallet, I opened up the retro 3 pack that I got at GameStop a few weeks ago, so you should go check out that video too. It made me realize how cool these things are. I've started picking a few here or there, I'm not going to go too crazy but I thought these were pretty cool when I was looking at what Amiibo are out there.
I wanted to show these to. I've got the 2 8-bit Mario Amiibo's, you've got the classic color and then the modern color there. Then I picked up the Japanese import version of Rob the Robot, or as he's called in Japan, Robot. I guess he's not called Rob over there. I picked him up because he's got different coloring, he's got the Famicom coloring as opposed to the US grey coloring that's on the US version.
As you can see they're all the Japanese versions. I got these in the Japanese packaging because I'm going to open them up, and other than the packaging, the US and Japanese versions are exactly the same. They're compatible, they do exactly the same thing in exactly the same games, so they were cheaper than the US ones, so what the heck? Why am I going to spend more money for the exact same thing? I don't really care about the packaging, because I'm going to rip them open, so whatever, unless they're open, nobody will know the difference. I'll show you the back here, we'll open this one first.
The back is all in Japanese, but otherwise it's exactly the same. Just tells you, "Hey, this is cool, it works in your games, it unlocks stuff." There you go, that's that. Let's take a look at this. I think these are cool because I really like this 8-bit style, I'm definitely a fan of the retro games, I had an NES when I was a kid it was one of the first systems that I had, I have a great fondness for those old Nintendo games, I still do. I still play a lot of them, I have a lot of them on the virtual console on the Wii U. He popped right out of there.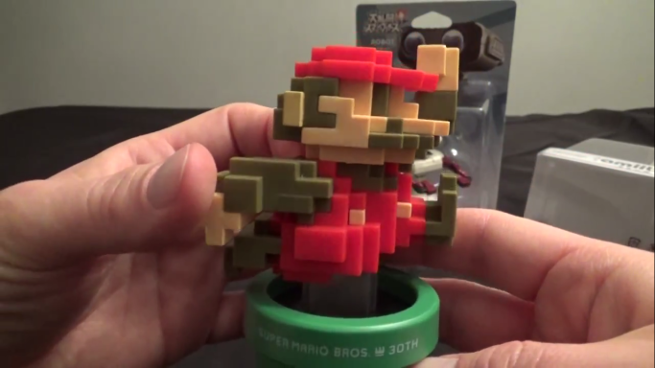 There you go, this is really cool, this is celebration of the 30th Anniversary of Super Mario Brothers, which by the way makes me feel super old. Of course, its got good old jump man there, Mario in his iconic jumping pose from Super Mario Brothers, and it's got him all pixelated. I think this is really neat looking, this is a big, heavy, hunk of plastic. I love that he comes on a pipe base, and I know this unlocks stuff in Mario Maker, and I'm sure there other games it does too. I think it looks really cool. I couldn't decide on getting the classic color or the modern color, so of course, I got both. I think this is one of the nicer Amiibo's that are out there.
I think all the Amiibo's are pretty nice. I held off getting them for awhile because I was really afraid of getting sucked in and spending all my money on them, I'm trying not to let that happen, but they're really cool. There are some other one's I definitely want to get. I want to pick up the Mega Man one, I want to get Shovel Knight, and of course, I'll probably want to get Mario and Bowser, and all the other classic characters. We'll see, stay tuned to my channel, every week you're going to see new video of me saying, "Well I got a few more Amiibo guys." Stay tuned, I'll put them in a playlist so you can check them all out as a slowly drain my wallet and buy all these Amiibo figures.
This is the modern color, if you haven't that out yet. I don't know which one I like better, I might be partial to the modern color, because it's the more iconic Mario look. Everybody knows him with the little overalls and everything and the red shirt and all that, I don't know, I think they're both really cool. I think they're both awesome, they're cool variance on the Amiibo there. I love it, I love good old 8-bit Mario. I think it's a very nice figure, it's cool, I wish they would do more like this. I hope they don't do more like this because then I really will buy all of them. I think this would be a cool thing to see, to do, I'd love a retro Link or something like that. Be really neat. Maybe retro Link holding up the Tri-Force or something like that.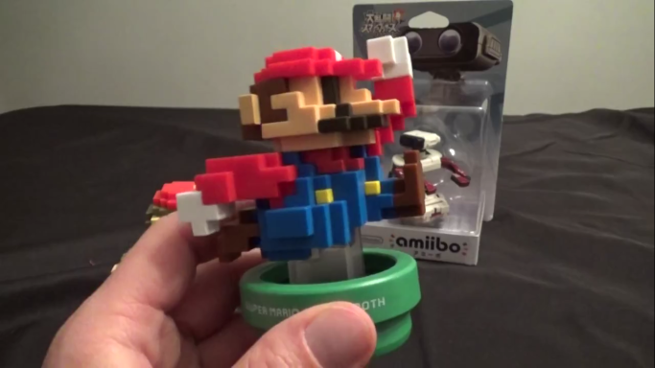 Let's rip open Rob here and check him out. Or generic Robot, like the Japanese call him apparently. Does he come … no, just paperwork inside, it's all in Japanese couldn't read it anyways. There's the Rob Amiibo, pretty much functions, again like I was saying before, functions exactly the same way as the US Rob, but he's got his cool Famicom red coloring there, which I think I'm a little partial to, rather than the plain old grey US version. I actually had one of these when I was a kid with my Original Nintendo Entertainment System. It was pretty useless, it didn't really do much, didn't make the game any more fun. It made it more laborious, you could take the 2nd controller of the NES and push the buttons and do exactly what the robot was doing, which made it way easier.
I love this design, definitely brings back some fun memories. You can see there it says, Family Computer Robot, which of course, the Famicom is the family computer, that's what it was called in Japan. It wasn't the Nintendo Entertainment System as we know it here in the US.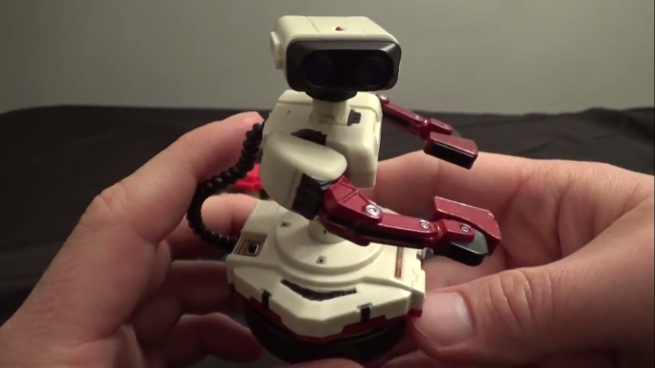 These are some really cool Amiibo, wanted to show them to you guys. I think these are awesome, I'm very happy to add these to my collection. I have more Amiibo videos up and other unboxing's too, so check those out, look for the playlist. I'll put the playlist, well I'll put an Amiibo playlist together. Like, subscribe, share, checkout my Ebay page too, and my website, realdealunbox.com. Thank you so much for watching. Keep on collecting.