Hey everybody. The Real Deal here. I've got this month's Loot Crate. This month's theme is Time. I am excited to see what's in here. I know there's some Doctor Who stuff, some Back to the Future stuff. I believe there's a Funko Pop in here. There goes my cat, always got to make an appearance. Bye Sophia. Let's see what's in here. I hope the Funko Pop is a Doctor Who one. Let's see.
Oh wow. How cool is that? There's a Dr. Emmett Brown Funko Pop right in there. That's very, very cool. It is a Loot Crate exclusive Dr. Brown, or Doc from Back to the Future. How cool is that? Let's see what else we've got in here. All right. Listen. I'm not disappointed it's not a Doctor Who one, because you got Doc Brown there. It looks like he's got his little testing clothes there. That's really nice. That's a very cool Funko Pop.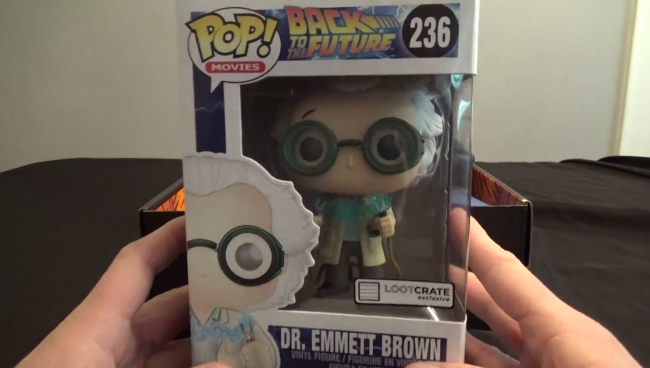 You know, now I'm going to have to get Marty too, I guess, and get the two of them, to have the Back to the Future collection. I guess I need the other variant of Doc Brown. See, that's how my collecting madness takes over. I'm like, I have to get all of them. Anyway, that's a very cool Funko Pop. Very neat. I'm happy with this crate already. I don't even care what else is in here. Well, actually, yes I do.
We got a t-shirt. Let's see what the t-shirt is. Well, it's blue. What is it? Oh, nice. Bill and Ted's Excellent Adventure, says "Be Excellent to Each Other. Bill and Teds Excellent Adventure." That's cool. That fits with the Time theme, as well.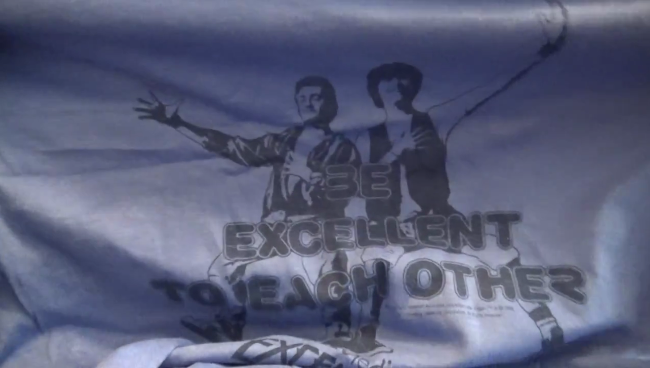 I haven't seen that movie in awhile. I've got to re-watch those, both of them. I like those movies. There's been rumors about a third movie for years, and years, and years. Who knows if it will ever materialize. You know, that would be cool one day if they do that. There you go. Bill and Ted's Excellent Adventure. They've been reviving all sorts of old stuff lately. We might very well see a Bill and Ted 3, you never know.
Oh, we've got a Back to the Future Part 2 Hover Board. One fifth scale replica. This is a Certificate of Authenticity saying that it is exclusively for Loot Crate. That's everything in here is exclusive to Loot Crate this month. That's really neat. Look at that. Can I get it out of there? Oh, it's like on it's … Okay. That's really cool. It's just like on a nice little base there. It's just plastic, but that's cool. Little Hover Board replica. Something to put on your shelf there. That's kind of neat. Fits the time theme, and it's also in keeping with Back to the Future Day. Well, as I'm filming this Back to the Future Day already happened. All right. Let's put that back for now. It's very cool.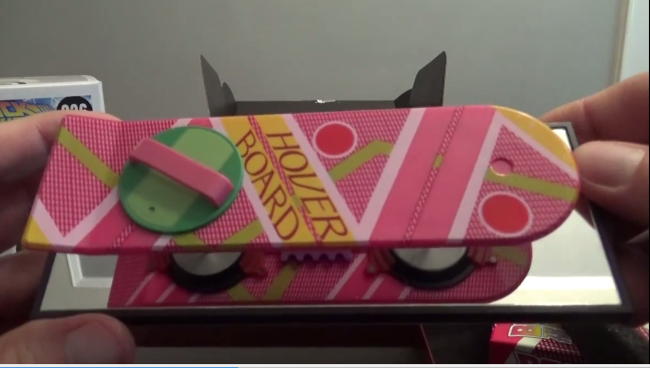 It's nice that Back to the Future's been getting all this attention, because they're great movies. I did an un-boxing of the DVDs that came out, the new Blue Ray set that came out. You should check that out. I have lots more Loot Crate un-boxing's too, you should check out while we're at it.
There is a Flux Capacitor on the Loot Crate pin, there. October 2015 time. That's a neat pin, there. It says "We love you." Loot Crate loves us.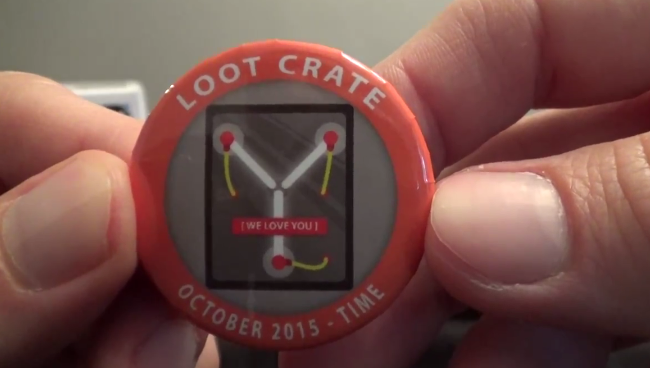 What else have we got here? This must be the Doctor Who item. Cool. It is a Sonic Spork? Okay. That is too funny. It is a spork with a Sonic Screwdriver handle, there. That is hysterical. Well, now I've seen everything. Yeah, let's take it out of there so you can get a better look at it. That's really funny. Well, I guess I'm going to have to use this when I'm eating. Huh, all right. Sonic Spork. That is not exactly what I expected to get as the Doctor Who item in there, but whatever. I'll take it. That's interesting. Okay. Get in there Sonic Spork.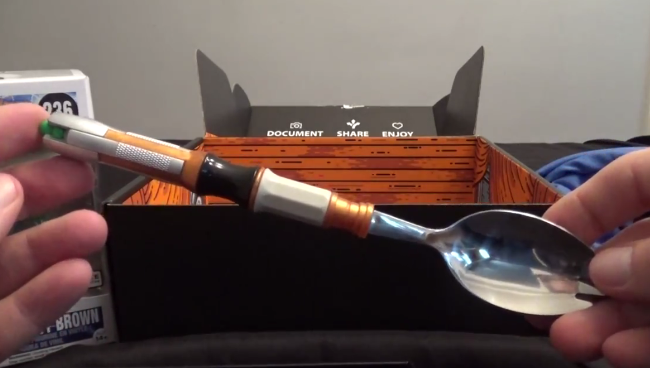 Okay. What else have we got in here. Oh, that's it. We've got the Loot Crate magazine, Time. Oh, look at that. "OUTATIME" poster license plate there. You've got a Doctor Who, who's your doctor. You can see which Doctor you like, I guess. Okay. Obviously it tells you what else is in the crate. It's got interviews, as usual, and that sort of thing. There you go. That's that.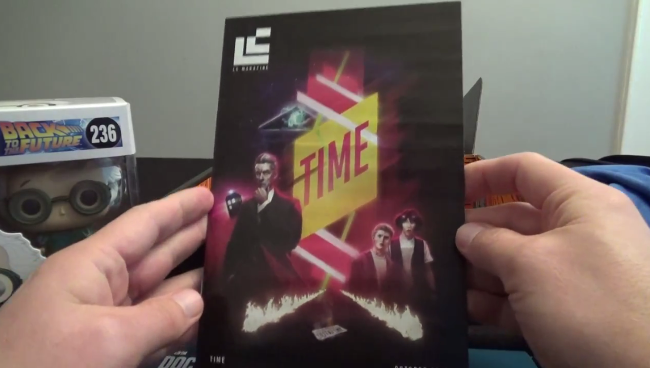 What else? There's what the crate looks like. Party On. Can you see that? "Party On Dudes." There you go. From Bill and Ted, obviously, so there you go. There's the October, 2015 crate. There isn't a ton of stuff in here. I have to say, I like this stuff. Especially this Funko Pop. It's very cool. I love this Hover Board replica. I'm a big Back to the Future Fan, so this stuff is cool. Sonic Spork, heh, it's interesting. It's a funny little neat thing to have. I guess it will definitely spark some conversations if I pull that out and start using it at a party, or something like that. People think I'm crazy. Then, I definitely like the Bill and Ted shirt. Very cool.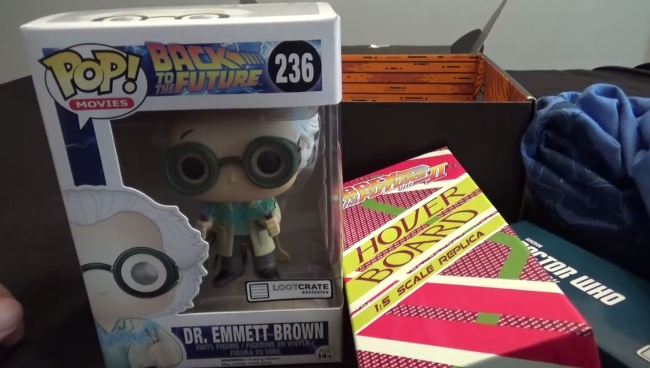 Overall, I think this is a great crate. I especially like this Funko Pop. This is fantastic. That's that guys. I hope you enjoyed it. I do have a contest running right now. You should check out my video of the Alien Nostromo un-boxing, of the two packs that I got from Comic Con. You can find the details of the contest there. Every Sunday at 7:00am, Eastern Time, I put up a new video. For the next few weeks I will be running some giveaways. The folks at Titan Entertainment, at Comic Con, were really nice enough to give me a bunch of stuff to give away. You should check those out. You should check out my other Loot Crate videos, and other boxing videos, as well. Like, Subscribe, Share, Donate. Thank you so much for watching. Keep on collecting.
Watch the full Youtube video: