Hey everybody. The Real Deal here. I've got these really cool Titans vinyl Alien exclusive twin packs to unbox for you there. You can see one of them is a bloody alien with Parker, with his brains coming out there, which is pretty cool.
Then, 1 with Ripley, and an alien with the acid wound on his chest there. 2 very neat twin packs. I picked these up at New York Comic Con. I'm showing you the boxes here. You can see the back, shows you the Big Chap, Ripley, and Parker. "In space, no one can hear you collect."
That's that. The boxes there also show you the regular Alien and Ripley figures, and then the Alien Nostromo collection, which is available separately. That shows you there the figures on there. You can check out my other video of the 3" blind box Alien Nostromo collection. They're really neat. I definitely recommend taking a look at those.
When I'm done unboxing these, I will tell you how you can win 1 of these for yourself. Thanks to the lovely people at Titans. I did an interview at New York Comic Con with Andrew Sumner. He's the director of merchandising for Titans. He's a really cool guy. He was really nice. He was super, super cool enough to give me lots of stuff to give away to my fans, so you guys are lucky.
Oh, okay. There's an accessory here. That looks like it's the Alien's bloody tongue there. That's kind of neat. We'll put that on him and check that out.
Yeah. The guys at Titans were awesome. I definitely, definitely appreciate them giving me stuff to give away. It's very cool.
This is Parker with his gaping head wound there, his brain kind of sticking out there. He does not look to well. Spoiler alert: he does not survive the movie. Again, the likeness on this is great. Looks like Yaphet Kotto. It looks just like from the movie.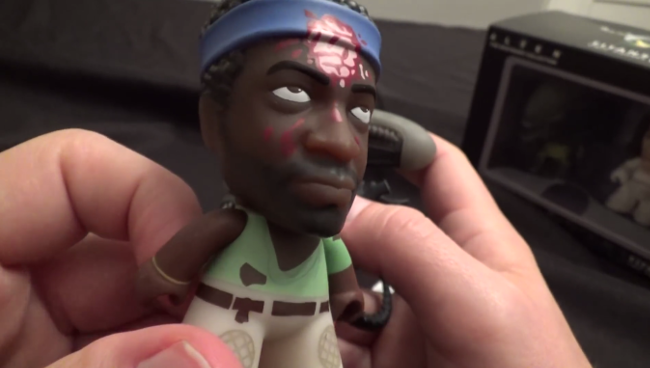 Then you've got the awesome Alien there. Again, this looks fantastic. The detail on this is just unbelievable. It looks really great. It's not much different from the regular Alien figure that comes in the set, like in the regular set. It's just bloody, but still, it's pretty neat. I think the set is awesome for the Parker with his brains popping out.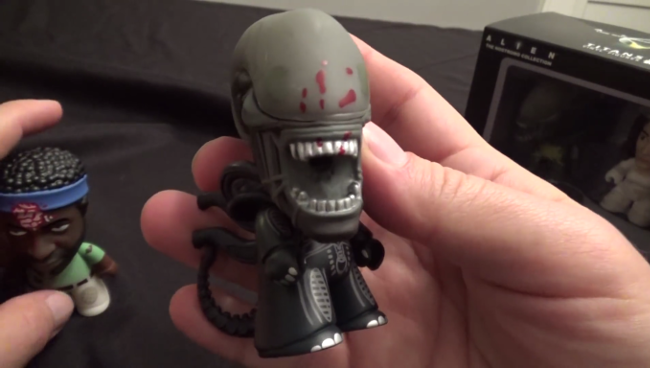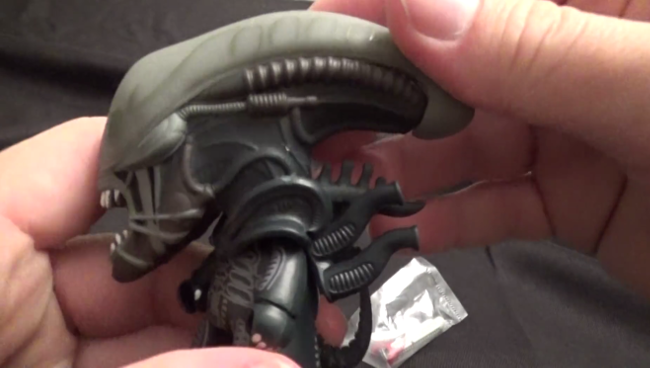 This is a pretty gruesome set. They have the chestburster Kane in the regular set too, so it's definitely not a set for kids, I would say.
There we go. There he is. There's the alien with his bloody tongue. I have to say that looks pretty cool. He's attacking Parker there. Well, actually, that's not how he does it, right? They go like that.
Anyway, this is cool. There's Parker, and there's the bloody alien. That's 1 set. Again, this is an exclusive … I got it at New York Comic Con. I think you can probably get it from Entertainment Earth as well. I'm not sure where else it would be available. Perhaps Barnes and Noble, because they did have … They do carry Titans stuff, and they did have a Breaking Bad 3 pack, which I picked up that I'll be unboxing soon for you guys, so stay tuned for that.
I also have lots of giveaways coming up over the next couple weeks. Like I said, Titans were great, and they gave me lots of great stuff, so this Aliens stuff is not the only stuff I will be unboxing for you guys. Again, we've got the Alien tongue there. We'll put that in so you can see it.
We've got Ripley in an outfit. I don't really remember her wearing this in the movie. It looks torn up a little bit there. I'll have to go back and watch it. I don't remember exactly when she wore this. There you go. Again, great likeness, looks like Sigourney Weaver.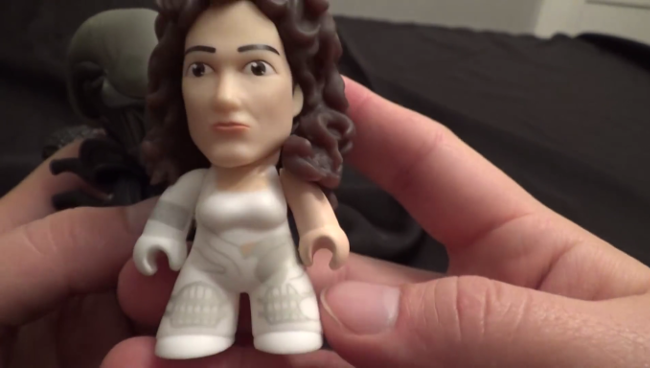 Then you've got the Alien with his wound there, his acid blood coming out there. If you haven't seen Alien, it's a great movie. So is Aliens, the sequel. Alien 3, not so much. Alien Resurrection, really not so much, but the first 2 Alien movies are great and I definitely recommend them. They're 2 of my favorite movies of all time.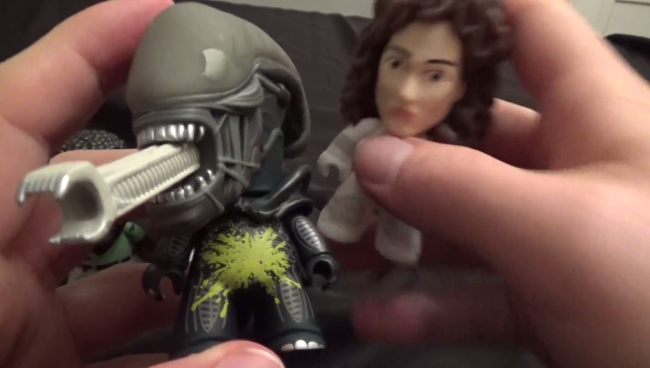 There's a great Alien box set … Pretty cheap. Blue Ray DVD and it comes with all 4 Alien movies, and I think they're available on demand. They might be on Netflix and stuff too. Definitely worth watching.
So there you go. You've got 2 cool variants of the Alien there, and then you've got good old Ripley, one of the best sci-fi heroines of all time. Then you've got the awesome Parker with his brains coming out. Put that next to the chestburster Kane from the regular set, and people will wonder what the heck is wrong with you for having these gruesome figures on your shelf. But I think they're really cool. I love Titans. I love the work that they do, and these are awesome additions to my collection.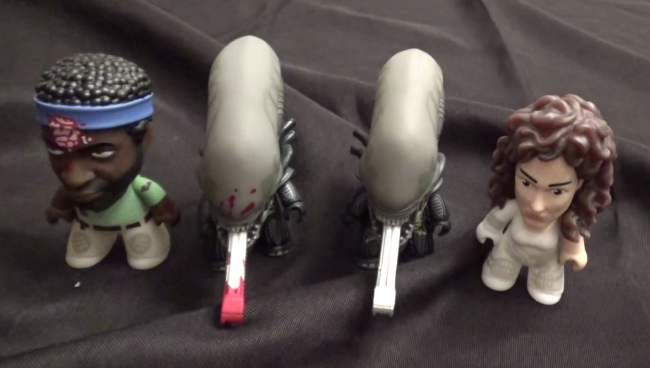 So, that said, if you would like to add these to your own collection, you have a chance to win them. Let's get them out of the way there, because you can see I have … I'm not going to send you the sets that I just opened. I have 2 sets … Let me get it off to the side here. 2 sets sealed, so I'm going to give them away. What you can do, is you have to like, subscribe, and share this video. Subscribe to my channel, like the video, share the video, and leave a comment and tell me in the comment what is your favorite movie with an alien in it and why. It doesn't have to be from the Alien series. You can tell me "Oh, I like E.T. because whatever."
You know, anything with an alien in it. Let me know. I think that would be kind of cool. I want to see what you guys have to see. Then, what I'll do, is next Sunday, which would be … Good lord, what's today? That would be the 18th, so that would be the 25th, right? Sunday the 25th? I think I'm right. Will be when I announce the winner, and the next giveaway, so you have 1 week to do all that. Like, subscribe, share, and leave a comment. I'll actually have 2 winners. Somebody will get this set and someone will get this set, and I'll pick it at random.
That's that, guys. Please … I put up a new video every Sunday at 7 AM. Like I said, for the next few weeks, I'll be doing these giveaways, so make sure you stay tuned and see all the other cool Titans stuff you can win. I do have a video up from last week with all the cool stuff Titans gave me, so you can get a look at the stuff I'll be giving away. You should watch my other videos, too. Other Aliens videos, Titans stuff, Kid Robot, Funco, all sorts of awesome stuff on my channel.
That's really all I've got. Like, subscribe, share, leave that comment, and thank you so much for watching. Keep on collecting.
Watch the full Youtube video: