Hello, everybody. The Real Deal here. I've got these 2 cool Sherlock Convention Exclusives to unbox for you. We've got the pajama 2-pack that I got at New York Comic Con and then we've got the San Diego Comic Con Exclusive, which I got on eBay because I didn't go to San Diego Comic Con. This is, I believe, Sherlock in his priest disguise, so we're going to take a look at those.
I've got a little bit of a cold, so I'm sure you can hear it in my voice, but I still wanted to get this unboxing done because I promised every Sunday at 7 am I'd be doing a Titans giveaway for the next few weeks and this week is no different. Once I unbox these, I will actually be giving away a set of these, so I'll tell you how you can win at the end of the episode and I will also be announcing the winner of last week's giveaway of my Alien Nostromo Collection 2-packs. Stay tuned for that. Let's take a look at these. Let's get these unboxed.
This first 1 is the Sherlock priest disguise that was released at this year's San Diego Comic Con. I was waiting awhile to get it. I was hoping they would have it at New York Comic Con. They didn't, so I went ahead and grabbed it on eBay. There he is. Again, with these Titans Vinyl Figures, the likenesses are always absolutely amazing. This is a fantastic likeness of Benedict Cumberbatch. I love what they did with that.
It's a cool variant. It was priest disguise from the show, so it's a cool little variant there to have. Again, I don't think you find this in too many places other than eBay right now, so that's kind of a shame. He wasn't too expensive. I think you can get them like 15 bucks, so it's not that bad. There he is. There's the priest disguise. I'll be doing a full set of the Sherlock Titan figures at some point as well, so you can take a look at those when I'm in the process of putting that set together.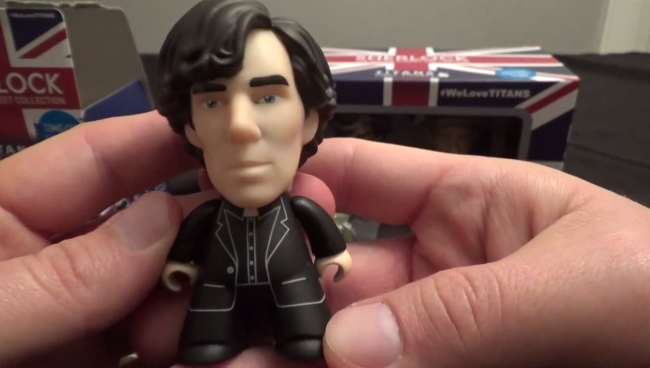 Now this 1 … See, there we go. There goes my voice cracking with my cold. Sorry, everybody. Sounds like I'm going through puberty. That was actually pretty easy to open. I appreciate that. Sometimes those are you got to get like the jaws of life to get into those sometimes.
Okay. These were Convention Exclusives at the New York Comic Con. You've got Sherlock in his pajamas, his robe there, which is pretty cool. Then again, another great likeness of good ole Martin Freeman there as John Watson. He's in his pajamas as well.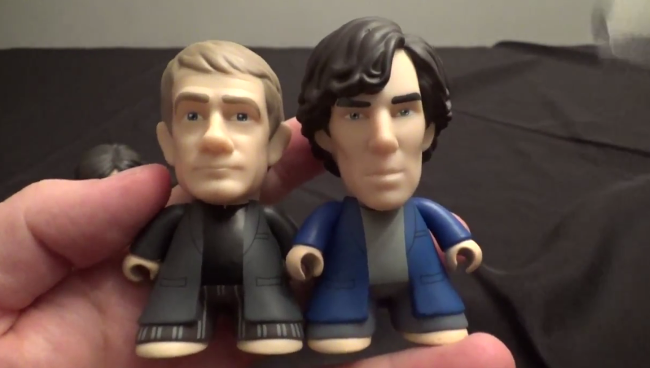 I thought these were pretty neat variants. I like that they didn't just … I've said this before. I like when they don't just change the color of what they're wearing, actually do some costumes that they wore in the show, so I think that's very, very cool. There you go. We've got the 2 Sherlock variants there and then a Watson pajama variant. There you go. There's some very cool Sherlock figures.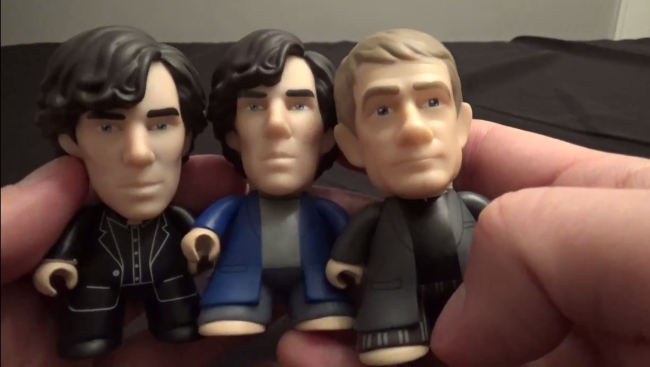 I also am getting the DVD set that I'm going to unbox as well. The Blu-ray set, so stay tuned for that. Lots of Sherlock goodness coming up. There's also an Entertainment Earth Sherlock exclusive set that I'll be getting. Lots of Sherlock stuff coming up, if you like Sherlock, so stay tuned for all that stuff.
Now, let's get to the housekeeping stuff. I told you I would be giving away a set and here it is. I'm not going to give you the set I just opened. You will get an unopened set of Sherlock Convention Exclusive pajama 2-packs. How do you win this? It's pretty simple. I'm going to do the same thing I did last week.
Basically, you just have to like the video, subscribe to my channel, and leave a comment. In your comment, tell me who your favorite detective is and why. We'll go with that because obviously Sherlock's a detective. It doesn't have to be Sherlock. You can tell me somebody else like Batman or somebody like that. Whoever your favorite detective is and why. There you go. That's how you can get this and I will announce the winner next Sunday. Again at 7 am Eastern time, I'll post the video of my next unboxing and who the winner is, so that's how you can win this.
Now that we've got the Sherlock stuff taken care of, last week, you can check out my unboxing, I opened up the … well, that's the winners announced there, but I opened up these 2 Alien 2-packs that I got from New York Comic Con. I believe these are also Nerd Block Exclusives, so if you get Nerd Block, you can get them. We've got the Ripley and the alien there and then Parker with his brains out and the blood-splattered alien and this is like the acid-splattered alien.
I'm going to announce 2 winners and 1 person will win this 1, and 1 person will win this 1. Let's move the Sherlock stuff back here and we'll see who won. What I did last week, in case you missed it, is you had to let me know what your favorite movie with an alien in it was. I got some really interesting answers.
People gave me some really unexpected stuff. 1 person said their favorite movie was Howard the Duck with an alien, which I never, ever expected. Somebody mentioned Toy Story, which I thought was kind of cool. Toy Story is a great movie and I forgot there's aliens in Toy Story, but I wouldn't have thought of that. That's very cool. Got a lot of votes for Alien 2, which makes sense because Alien's a great movie and that's what the unboxing was for. Go check it out.
There were a lot of cool comments there. Just because the giveaway's ending this week, still, I'd love to know what your favorite movie with an alien is, but don't forget on this video, which is Sherlock, leave a comment with who your favorite detective is.
Anyway, let's take a look and I will pick 2 winners here. Now, what I did is I took all the comments, I folded them all up so I can be absolutely random and fair to everybody and pick them out, but what I want to say is, here we go, here's 1 and here's 2. There we go. I've got my 2 winners here. If you're under 18, please get your parents permission before you send me your address, before you give your address to some strange man on the internet. Also, please make sure they're okay with you owning something like this because these are kind of violent, so some parents might have an issue with that. Pardon me, everybody, I've got a cold. What can I say?
All right, so the first winner is … who do we have? John Cowart. Oh, John. You were the 1 I was talking about before. "My favorite alien movie is Howard the Duck." See? I told you. Congratulations, John. You will win 1 of these. Congratulations. You are the first winner there, John. I don't know if I can agree with you about Howard the Duck, man. Although, it was cool he showed up in Guardians of the Galaxy. I did like that, but that old movie is kind of rough.
Then the next winner here is HFalconYT. "There are so many movies with aliens out there that are really cool." Oh man, I'm losing my voice. "The Xenomorphs, though, are right up there as 1 of my favorites." Oh, good God, guys. Pardon me. I'm going to have to cut this short. Anyway, you can read the rest of his comment there on my page, but I got to agree with you, man. The Xenomorphs are awesome. The first 2 Alien movies are fantastic.
Congratulations, guys. We've got HFalconYT and John Cowart. Oh, good Lord. All right, guys. What you can do is send me your mailing address and I'll send these out to you. Please do it, either you can tweet it to me, send it to me over Twitter, or you can just send me a private message on YouTube. Don't post it as a comment, just for your own safety and everything. Again, if you're under 18, please. I don't want to get any angry letters from any parents, so please make sure it is okay with them. Thank you, guys, so much for watching. Thank you for listening to my terrible cold voice. I've got lots more stuff coming up where I will be healthy and much better voiced. Please like, subscribe, share, donate. Thank you so much for watching. Keep on collecting. Thanks.
Watch the full Youtube video: